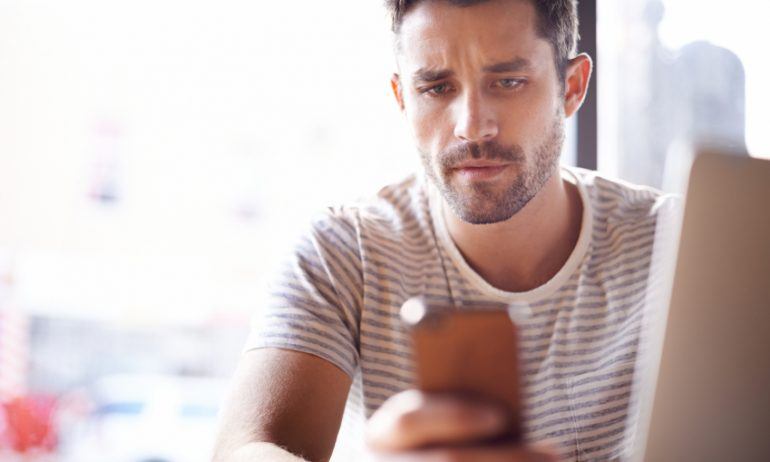 Have you been receiving harassment calls, threatening letters, text messages, or visits to your home from Cabot Financial UK?
Don't let debt affect your life and mental health. Complete the questionnaire below to get support in dealing with Cabot.
Discover How To Write Off Cabot Financial Debt
End The Worrying, Remove Stress, Take Action Today
Who is Cabot Financial?
Cabot Financial is part of the Cabot Credit Management Group, and they have been around since 1998, making Cabot Financial one of the oldest debt collection agencies in the UK. Cabot Financial has plenty of offices throughout the UK, but their head registered office is in Kent.
Although you likely have never borrowed money from Cabot Financial, you may owe them money as they buy your debt from the companies you owe them to. Cabot Financial buys your debts at a lower price in the hopes that you will pay the debt in full, which is how they make money.
What companies does Cabot Financial buy debt from?
If you're still not sure if you owe Cabot Financial money if you have debt with one of the following companies, you likely do:
N-Power

the DVLA

First Utility

Scottish Power

Loan companies

Local councils

Credit card companies
Online Forums Are Full Of Posts From Scared People Trying To Deal With Persistent Debt Collectors: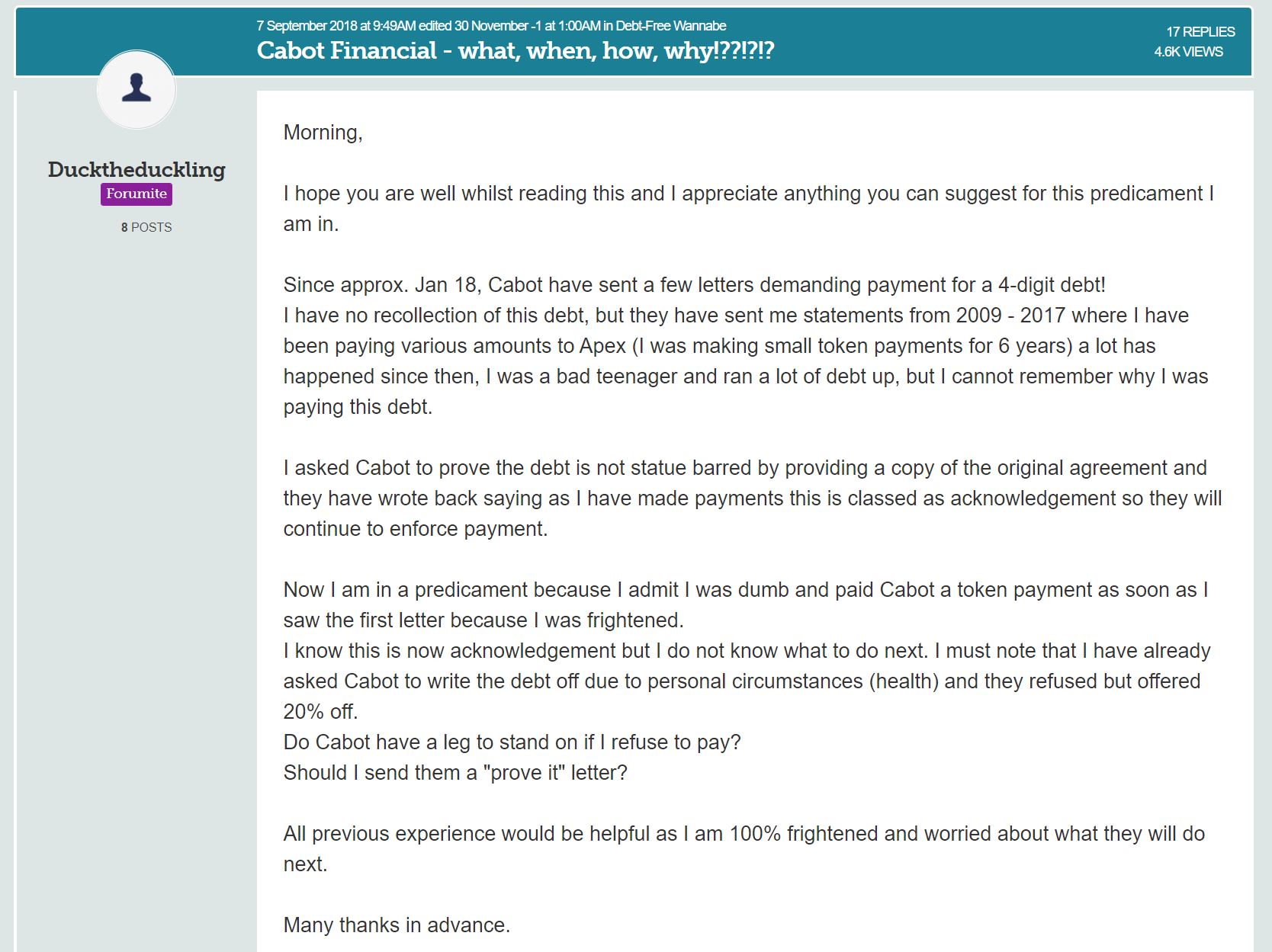 Is Cabot Financial Legitimate?
As many people have never heard of Cabot Financial before they reach out, many are unsure about whether or not they are a legitimate company or if they are trying to scam people. Cabot Financial is, however, is authorised by the Financial Conduct Authority (FCA), and they are members of the Credit Services Association (CSA). So, Cabot is, in fact, a legitimate company.
Even though Cabot Financial is a legitimate company, they can still be guilty of misconduct. If you want to make a complaint about them, they have a detailed complaints procedure on their website. If the complaint still needs to be addressed, you can escalate it to the ombudsman. There are two types of ombudsman to contact, depending on your type of debt.
What happens next?
If you have already received a call, email, or letter from Cabot Financial, they have already gotten the ball rolling on collecting your debt. They will start by continually contacting you, even if you block their number they will call from another one. If you try to ignore them, they may even visit your home. While it is legal for them to come, you do not have to let them in.
Cabot Financial is calling or sending a letter in the hopes that they can receive your repayment whether it's as a lump sum or through a payment plan, they want you to repay your debt so they can earn some money.
Following this, if you have not repaid your debt or made a deal with Cabot Financial, they can register this failure to make repayments with a credit reference agency. This can damage your credit rating, which in turn can negatively impact your ability to take out a loan, mortgage, or another credit card in the future.
Finally, and often in the worst-case scenario, Cabot Financial could take you to court to receive a judgment against you. If the court rules in their favour, a bailiff could come to your home to take anything that equates to the value of your debt. Alternatively, you could also lose your home at this stage if you don't pay off your debt in the agreed-upon time.
Ultimately, ignoring your debt and Cabot Financial will not work, even if you obtained a cease and desist letter to prevent Cabot to stop contacting you. You will still owe the debt, and they can still take you to court. So, the best way to deal with your debt is to face it head-on. Here are some of the ways you can do that.
How An IVA Could Radically Reduce Your Debts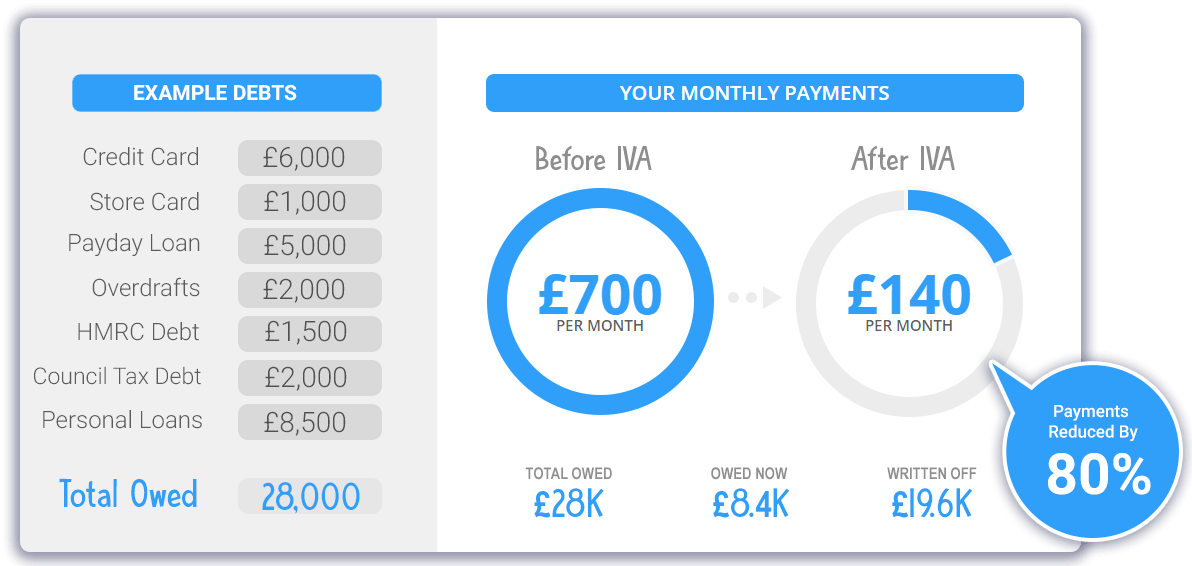 Lower Monthly Payments & Write Off Up To 80% Of Your Debt – 30 second Form
Create a budget
The best place to start with repaying your debt is to see if you can afford to pay it off and how much you can pay.
You can do this by creating a budget. Include all of your monthly necessities such as rent/mortgage, utilities, food, insurance, etc. Then, whatever is left over is essentially spending money, or the maximum amount you could afford to put towards your debts.
Once you know how much you could afford to pay a month, you can tell the debt collectors, and they should be willing to set up a monthly repayment plan with you based on the number.
How do I pay Cabot Financial?
After coming to a repayment agreement with Cabot Financial, you can start to make monthly repayments. You can do this by registering your payment plan on their website's portal, or you can make a payment over the phone.
Whether you're making a partial payment, monthly payments, or paying a lump sum, you can pay your debt to Cabot Financial with a credit or debit card, a payment slip, a bank transfer or by cheque.
What if I can't afford to pay off my debts?
If you've calculated your budget and realised you have no money left over to put towards paying off your debt, Cabot Financial may still be willing to work with you. They could offer you a discounted rate on your debts if you agree to pay them in full. If you're able to pay off the total, discounted rate of your debts, get their offer in writing, pay them off, and you will be debt-free!
How else can I write off my debt?
If you still are not able to pay off your debt, even with a discounted rate, you may be able to write it off with insolvency. There are a few different ways to do so; one is applying for an Individual Voluntary Arrangement. An Individual Voluntary Agreement is an agreement made with the government where they will help you write off up to 75% of your debts with Cabot Financial.
Before applying, check if you qualify for the agreement. Your debts must be over £1,700, and you will have to pay back the remaining amount of what is not written off at once or monthly.
Another type of insolvency is a debt relief order. With a debt relief order, your debts will be written off after a year. To qualify, your debt must be less than £20,000, you cannot own a house, and you must have less than £50 after paying for your essentials each month. Not only is it harder to qualify for a debt relief order, but it will also stay on your credit file for up to six years which will make it hard to apply for any loans, credit cards, or a mortgage in the future.
A last resort option tends to be filing for bankruptcy as it can have a huge impact on your credit history for years. If you have no other options, you can file for bankruptcy if your debts are at least £5,000 and you can pay the application fee of £680 to an Insolvency Service.
If you are approved for bankruptcy, all the assets you own that you don't need for work will be taken. You will also lose control of your bank accounts to the bank. As you are losing so much, filing for bankruptcy should not be taken lightly.
Summary
In conclusion, Cabot Financial is a legitimate company that buys your debt from the companies you owe it to. If they have contacted you, it is best to answer them as soon as possible to discuss your debt repayment options, so they do not take you to court. Don't let the debt hang over your head; start your journey to being debt-free today!
Cabot Financial Details:
1 Kings Hill Ave, Kings Hill, West Malling ME19 4UA

Main Telephone: 0344 556 0263

Other Known Numbers: 08009172225, 03445560276, 03331239999, 03445560212, 03445560225, 02078966200

FCA number: 677910

Company No. 3439445

Website: https://www.cabotfinancial.co.uk/

E-Mail: Use contact form on the website