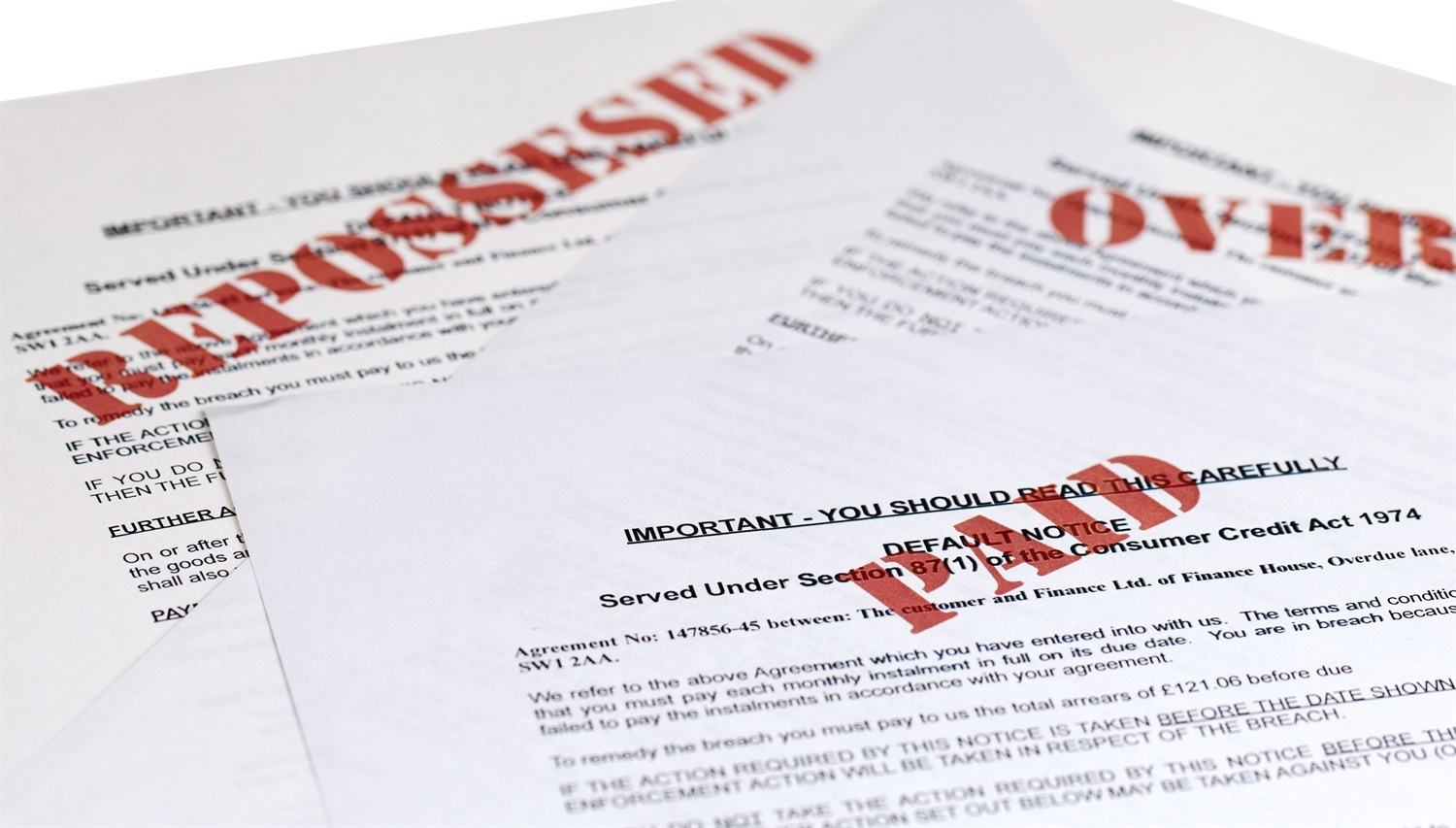 There's A Fair Chance You Might Not Need To Make A Payment To Lucas Credit Services Debt Collectors!
Are you getting consistent calls that feel threatening from Lucas Credit Services? They might have even sent someone to your home, sent debt letters or emails about the money you owe them. Debt collectors can be ruthless calling at all hours repeatedly. Fill out the form below to get help and make the harassment stop.
Write Off Lucas Credit Debt Quickly
Who is Lucas Credit Services LTD?
Lucas Credit is a debt collection company with their head office in Brandford. They are part of the larger company called Lucas Credit Service Ltd. Which also trades under other names like Lucas Legal services, Lucas Services, LCSL and LCL. In December 2019, Metis Bidco Limited took a large portion of control over Lucas Credit Services LTD.
Is Lucas Credit services a legitimate debt collection company?
While some methods they use to get the customer to pay their debt have been called into question, they are in short a legitimate company. The Credit services branch is, in fact, legitimate and thus they are regulated by the Financial Conduct Authority, also known as the FCA. Stop the harassing calls before they affect your life, fill out this form to see how we can support you.
I have never heard of Lucas Credit services LTD. How can I owe them money?
You may have gotten a phone call, email or debt letter claiming that you owe money to Lucas Credit Services. Many people become confused, having never received services or borrowed money from them before. This is because most customers haven't. This debt collection company purchased the outstanding debt from others usually at below the amount originally owed.
Not sure what to do about the calls from Lucas Credit? Please get in touch to see how we can help before starting the debt collection process.
Lucas Credit services buy the outstanding debt from finance companies and collect amounts of their behalf. Some companies they have been reported to collect for are Vanguis, 3G, EE, O2, and British Gas, to name a few. As of 2020, Lucas Credit Services is not one of the debt collectors used by the HMRC.
If Lucas Credit services have contacted you about an HMRC debt, try our 5-step questionaire to find out how we can help.
If they have contacted you, the first step is to make sure the debt they are trying to collect on is yours to pay. This can be done by getting in contact with Lucas Credit Services and requesting they send you a copy of the original debt agreement. If this is something they can't provide, then you may not have to pay them.
If you feel that Lucas Credit Services has been threatening or intimidating, contact the financial ombudsman service to file a complaint.
How An IVA Could Radically Reduce Your Debts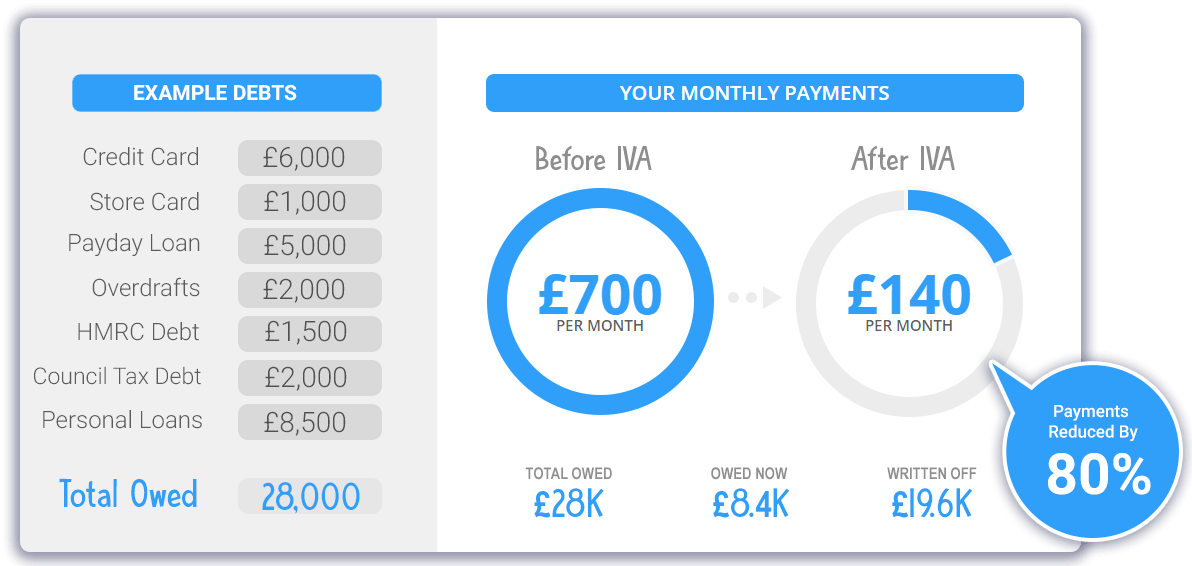 Is Lucas Credit Services ltd debt collections following the rules?
Like all other debt collection companies operating in the UK, Lucas Credit Services is regulated by the FCA, and there are guidelines set in place for these debt collection agencies. In short, these are the things that Lucas Credit Series must follow, and if they are not, you can fill out this form to get help in dealing with Lucas Credit Services.
They must treat debtors fairly and with respect. They are not to use aggressive practices, coercion, deceit, unfair or improper methods when working with a debtor.

All information must be clear, not confusing, and not misleading.

They must be considerate to debtors who might experience personal difficulties.

They must also work with the debtor's personal circumstances when working with their account.
Being harassed by debt collectors can have serious mental health effects stop the harassment by filling taking our free debt test to let us help you.
Lower Monthly Payments & Write Off Up To 80% Of Your Debt – 60 second Form
Tactics used by Lucas Credit Services Limited
If Lucus Credit services have contacted you, you may be wondering what might happen next. It is good to understand how debt collectors work. They are paid minimally for their work and get a payment bonus when you pay your debt.
When contacting you by phone Lucas Credit may use an automatic call service. This means it can be programmed to continue to call you at whatever interval the debt collector decides.
This is an attempt to wear you down and get you to answer the phone. If you do answer the phone, then they may try the common 'good cop, bad cop' routine.
Don't let Lucas Credit pressure you into paying more than you are able to, fill out this form for support. The first person you speak to will seem friendly and caring and may even try to offer information on how to handle the debt. Then either in the same call or on a different call, the tone will change to uncaring and unsupportive demanding the debt be paid in full.
If Lucas credit has tried to speak to someone else in your home, or someone at your work, this is against the guidelines they have to follow. Report these to the financial ombudsman service, stop the debt collection process.
Fill out this form to get support with Lucas credit, take back your life from debt.
What happens if you ignore Lucas Credit ltd?
If it turned out that you had outstanding debt and Lucas Credit services have purchased them, then the easiest thing to do is to pay the amount. However, these companies care nothing for what is going on in your personal life; they do not care if you cannot pay your debt.
If you cannot pay your debt, fill out this form to see how we can help. Please do not allow them to take legal action against you.
Keep in mind that debt can be chased for six years since your last payment thanks to the Limitation Act so that Lucas Credit services can chase you for that long. If you ignore them, you will see an increase in their automated calling like we discussed above.
Once they have used all the acts, we listed above they may seek outside help to make you repay. Lucas Credit Services and other companies like them can go to the court to get you to repay your debt. If this happens, you will receive a County Court Judgement letter. Once this has happened, Lucas Credit can chase you for your debt indefinitely.
Please contact us before Lucas Credit takes legal action against you and your debt. You cannot go to jail for outstanding despite what debt collectors may say, stop the cycle of harassment.
The county court judgement means a bailiff can come to your house. If you have ignored Lucas Credit and they have gone to the court, then there is a chance that a bailiff can come to your home and remove items, and apply their value to the debt you owe.
Don't allow legal action from the country court judgement like attachment of earnings order; take action now.
How do I contact Lucas Credit Services Ltd?
Contacting them is easy with many ways listed on their website. If you'd prefer to write to them, the mailing address is:
2A 606 Business Park Staithgate Lane, Bradford, BD6 1YA.

Contact them by phone using 01274 957060

They may call you from different numbers like:

01274957060, 01274957064, or 01138878947

FCA number: 691793

Data Protection Registration Number: Z2577941

Registered company number: 07407310

Website: https://www.lucascreditservices.co.uk/. The website has a self serve online portal to manage your account, all you need is a reference number.

E-Mail: help@lucascreditservices.co.uk
Lucas credit is chasing an old debt, is that allowed?
In 1980, the Limitation Act was put into law to support debtors. This act states that debt can only be collected on six years after the last payment. Once the six-year mark has passed, then you do not have to pay that debt. Unless Lucas Credit has gone to court for a County Court Judgement letter, then they can chase you for the debt with no time limitation.
Don't let them collect on a debt they shouldn't fill out this form for advice and support on how to stop the debt collection process.
How can I pay Lucas Credit?
You can either pay the amount on full or opt for a payment plan. The website offers a self-serve portal where you can pay using bank transfers or Internet banking payments.